Now that winter is officially over we can finally look forward to showing off our wardrobe. And what a better time to stock up on some chic spring fashions you can actually rock every day. Forget all the runways because let's face it, most of the stuff they show on the catwalk can't be easily translated into everyday life. But you can take elements from those fashion shows and create a wardrobe that's loosely inspired by those looks. And that's what I'm here to show you. I've rounded up a few recent trends to get you started on your journey to looking amazing this spring.
*This post contains affiliate links for which we may earn a commission at no additional cost to you.
7 Chic Spring Fashions You Can Actually Rock Every Day
1. Suede And Fringe
If you're a fan of suede you will rejoice to know that it's now back in style. And if you also enjoy a bit of fringe you can actually combine the two fabulously.
Boy, have I got a great treat for you. I've been lucky enough to score a pair of these amazing Aldo blue suede fringe boots that are part of Aldo's new collection #AldoxTezza. They're partnered up with @tezza who is a musician/photographer/influencer extraordinaire to create a rock 'n' roll collection worthy of many rock stars.
I've been following Tezza for a while now so I was especially excited to see what this new collection would include. There are four different boots to choose from all of which showcase a different personality. My favorite one is the Desert Star which was actually inspired by Elvis Presley hence the blue suede. And they also feature fringe detailing and a metal cap toe. Wow! I knew I was in love. You really oughta get your hands on them before they sell out.
CLICK ON THE PICTURES TO SHOP THE LOOK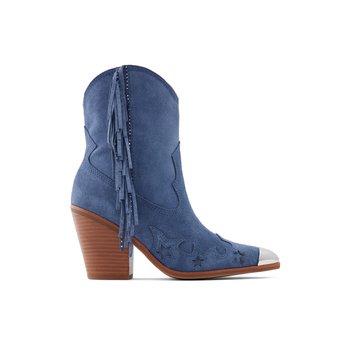 And here are a few more options for you. Enjoy!
2. Denim
I couldn't possibly exclude denim from this list. I mean, denim, in my opinion, is always in fashion. But who am I to tell you that. You probably already know that. My ultimate way to wear denim is to mix a pair of my favorite jeans with a casual top and a cropped denim jacket. You can rock that chic look any day. And who else loves a denim shirtdress? Hello, that's always a great look.
There are so many cool denim pieces these days I could spend all day writing them down. So I will just show you a few that have caught my eye. Okay? Sounds good. Hehe.
CLICK ON THE PICTURES TO SHOP THE LOOK
3. Polka Dot
I'm so happy to see polka dot getting the love it deserves. I've always loved it so much. I was on the hunt for a dress that reminded me of that Pretty Woman scene where Julia Roberts' character Vivien attends a polo match with Richard Gere and looks so fun and playful. So I was thrilled when I stumbled upon this amazing polka dot dress from Venus and I knew I had to have it.
OMG, does this dress ever feel good to wear. I never want to take it off lol. It feels like butter on your skin, I kid you not. If you can find it in your size you absolutely must get it. It's so gorgeous. You'll stop traffic, girl. Wink, wink. And it's actually on sale now so walk not run to the computer lol.
CLICK ON THE PICTURES TO SHOP THE LOOK
I've also linked a few other options for you so you'll have more choices.
CLICK ON THE PICTURES TO SHOP THE LOOK
4. Puffed Sleeves
I gotta say this trend was giving me that head-scratching feeling a bit but if you can find a great look for you it can work. I've found this cool cardigan with big sleeves that I actually really like. So if an almost petite girl like me can pull this off then you can absolutely do it too. It just takes some patience to find something that's right for you. Now, if you're a very tall girl you're totally in luck because this will look even more awesome on you. So don't be afraid and try it. You never know.
CLICK ON THE PICTURES TO SHOP THE LOOK
5. Camouflage
I gotta say I love camouflage. I can't stop wearing it. Haha. So I don't care if it's on-trend or not I'm going to include in on this list because there are so many cool pieces out there. I just can't resist. I found this super soft hoodie at Winners a while ago and I absolutely adore it. You can wear it all day because it feels so good against my skin. It's the perfect loungewear. And nowadays since so many of us are stuck inside it's that feel-good garment you may want to wear all day. I feel like doing that. I'm not gonna lie.
Or a little cropped top number like this is always fun too. No?
I've included a bunch of other cute things you can wear in camouflage that I also like a lot.
CLICK ON THE PICTURES TO SHOP THE LOOK
6. Draping
I find draping so flattering on almost everyone. The only issue is if you're very big-chested. You then need to be careful that you're not showing too much cleavage unless that's the look you're going for. Haha. But for me, I find that it's so chic and stylish and you can totally wear it down with jeans or dress it up with a form-fitting skirt. Either way, it can be very sophisticated. It's the perfect option to wear on a date or a night out.
So here are a few of my favorite pieces for you to check out.
CLICK ON THE PICTURES TO SHOP THE LOOK
7. Pleats
Pleats remind me of that Catholic school girl vibe especially when I stumbled upon this really cute skirt. I couldn't pass it up. But you don't necessarily have to stick to short skirts. A nice long pleated skirt or even a dress will look gorgeous too. I think this look can be both fun and refined at the same time. You just have to make sure it doesn't look too matronly so find something that works well with your body type and you're all set.
Take a look at these pretty numbers to give you an idea of how to work this look into your everyday wardrobe.
CLICK ON THE PICTURES TO SHOP THE LOOK
Chic Spring Fashions – Conclusion
I'm really happy to see some of my favorite items show up on the list of chic spring fashions for 2020 like polka dots. I'm already trying to find some other items like tops in polka dots to add to my wardrobe. And of course, I'm always into denim and camo.
So what do you think of these chic spring fashions? Which one is your favorite? Let me know in the comments below. I'd love to hear your opinion. And if you want to check out last year's trends to compare check out my article here. And I have great news for you now you can follow me on ShopStyle to see all my favorite fashion looks there. Hope to see you soon.
Also, make sure you sign up for our newsletter to never miss a post or an opportunity to enter our next giveaway.
The form you have selected does not exist.